One doesn't like to blow one's own trumpet. 🎺
So we decide to just Copy & Paste a part of a professional artice made by GRAPPLEZILLA.com
Who are The Guys Behind DopamineO?
DopamineO has been developed by 2 wrestlers, Hanoch Rahamin and Sagi Geva, both who are well versed in wrestling, fitness and diet. The rest of the team at DopamineO all come from a wrestling, BJJ and Grappling backgrounds and have perfected their wrestling fitness bands with a lot of research and development thus providing the best wrestling fitness rubber bands on the market.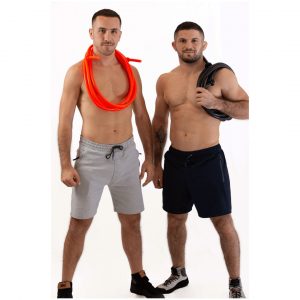 Hanoch Rahamin was a multiple time Israeli National Freestyle and Greco-Roman Wrestling champion as well as has competed multiple times in the European and World Freestyle Wrestling Championships. Hanoch has wrestled the best of the best and beated many national champions from around the world. Hanoch lives and breathes everything wrestling having trained in dozens of world class training camps in Russia, Dagestan, Georgia, Azerbaijan, Turkey and more. A true master of the sport of wrestling, Hanoch is deeply knowledgeable in the sport of wrestling as well as is an expert in wrestling fitness, he is intelligent, extremely driven and is an excellent coach, having coached many wrestlers, MMA athletes, nogi bjj competitors and those looking for a healthy way to get in the best shape of their life.
Sagi Geva is a serious wrestling enthusiast as well as a true health and fitness aficionado. Sagi is an extremely intelligent, highly knowledgeable and driven guy who truly believes in Dopa as a training method as well as has made his goal to bring Dopa to the world as he believes it is the absolute best method of training for those wanting functional healthy fitness options.
They truly care about the quality of the product they have built and it can be seen by their daily use of it as they originally developed DopamineO for their own use for simply getting in better shape for wrestling competitions
Personnal message from Dopamineo founders:
We love life when we are fit and love the community that emerges from sports, so we decided to invest our lives in the mission to expand the training methods and products that help us and our trainees improve, with the highest quality and service possible. Each of you is a friend to us, and you are welcome to contact us directly via our social media pages if you so desire. Hanoch Rachamin | Sagi Geva